Meet the Ritzenbergs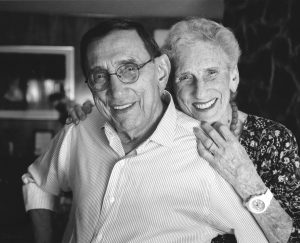 If you've been to Temple Beth El in recent years, you've seen them in action and perhaps feel you know them: Phil delivering a D'var Torah or Edna leading a book club discussion, or just attending services. But to really know them required an afternoon this writer spent with Edna and Phil Ritzenberg. And it's an afternoon well invested, as their story is fascinating.
It begins with a fortuitous meeting in 1955 when Phil's navy aircraft carrier docked in the Cape Town harbor of Edna's native South Africa. A long distance courtship, reliant primarily on letters that miraculously made their way from South Africa to midst of the world's oceans and back, resulted in marriage in 1956 and subsequent return to Phil's Cleveland home.
Their route to Temple Beth El required only another 54 years. The most significant milestone was relocation to New York (Far Rockaway) for a new career opportunity in 1959, followed shortly thereafter by a move to the Five Towns. In 2010, intrigued by Beth El's egalitarian philosophy, Edna and Phil "tested the waters" at our services and were moved to action by the warmth and welcome we've heard about from many of our newer members. They've been active and visible at the temple ever since.
More significant than following the Ritzenbergs' chronology is a review of their accomplishments and contributions.
Those who had children in in the Hewlett-Woodmere School District may have encountered Edna, who taught at the elementary schools for 28 years, including the Talented and Gifted Program, retiring in 1992. If you don't remember her, you're in the minority, as countless former students still contact her on birthdays and for general remembrances. Her formal retirement was from teaching elementary school, not from educating others. For several years Edna served as a docent at the Cooper Hewitt Museum. She currently moderates book club sessions at 4 libraries and 3 private groups, leading discussions on about 60 books per year. As Phil describes it, her readers "follow her to various book clubs like groupies follow a rock band." Add to this gourmet cooking skills and you have a most versatile woman.
Phil has been no less productive and accomplished. After graduating from Western Reserve University, he was a Fulbright scholar. He then served as an intelligence officer in the US Navy before resuming work in his true passion—journalism, His career spanned almost 60 years as an editor, designer, and publisher. He's designed some 50 newspapers and magazines across North America. Among the familiar names benefitting from Phil's expertise were The Cleveland Press, the New York Daily News, where he was the first at a major American newspaper to hold a senior editorial positon with responsibility for design during a 15 year tenure, The Jewish Week (11 years) where he transformed a failing paper into one with the third largest circulation in America, as well as the New York World-Telegram & Sun and the World Journal Tribune. Like Edna, Phil's retirement is not without a full schedule—he is a member of several professional organizations, a frequent presence at our evening minyan, a temple trustee, and chairman of the ritual committee.
For more on Edna and Phil, just attend a Shabbat service and grab a seat with them at the Kiddush.